At the EmTech China Global Emerging Technology Summit on November 19, 2020, MIT Technology Review released the Chinese version of the "50 Smartest Companies (TR50)" list. As the world's most influential technology and business magazine, the annual released list has always been hailed as the "Guide to World Technological Development." Bota Bio was nominated in the list, alongside notable technology companies such as Tencent, Baidu, Huawei, Meituan, JD, Xiaomi Corporation, Alibaba Cloud, Li Auto, and SMIC.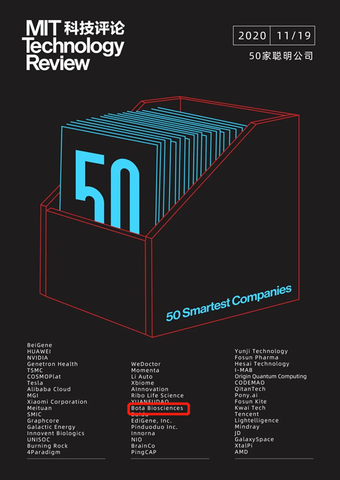 Rationale: Bota Bio boasts the world's leading computation-driven biofoundry, seamlessly integrating machine learning and bioinformatics with the systematic engineering of biology. In this way, it can provide innovative solutions for industries such as chemicals, food, agriculture, and pharmaceuticals.
Keyword: 1,000,000+ throughput /year
Utilizing the cloud-based wet laboratory with online remote control and automated equipment, it can execute experiments, including strain construction, testing, and data collection, with over a million samples annually.
About MIT Technology Review
MIT Technology Review was founded in 1899 at the Massachusetts Institute of Technology in the United States. It's the oldest and the most influential technology and business magazine in the world. Since 2010, MIT Technology Review has annually named a list of Smartest Companies. In 2019, MIT Technology Review introduced the concept of "China Pivot" for the first time. Continuing the stance and values of the previous year, the list of 2020 was based on the concept of "China Cohesion". MIT Technology Review believed that by emphasizing China as a cornerstone for emerging technologies, it could effectively assess the commercial capabilities and future potential generated by this leverage.
Bota Bio is the global biotech company connecting biological design to scale-up biomanufacturing to accelerate the shifts to sustainable living. Bota Bio is led by an experienced, multidisciplinary team of industry veterans delivering on nature's possibilities to inspire and enable a global transformation with biology. For more information, visit
www.bota.bio
.